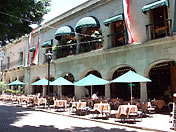 Enforex Spanish Language School
Prestigious organization in Spain & Latin America specializing in teaching Spanish as a foreign language, small class size and plenty of personal attention.
Becari Language School
At the Becari Language School, we specialize in offering many different options for any person interested in learning spanish.
Solexico Oaxaca
Soléxico Language and Cultural Centers provide students with the best opportunity to learn Spanish in a short period of time while being immersed in the Mexican culture.
Instituto Cultural Oaxaca
Spanish language programs to all different levels. Options range from one-on-one, tuition to group classes and cultural workshops.
Academia Vinigúlaza
In Vinigúlaza Spanish Schools the students learn in personalized classes with small groups, Vinigulaza's students can live with a Mexican family, in apartments or in private bungalows that are partners of the school.
Oaxaca International Language School
Welcome to Oaxaca International Something more than Spanish we hope that you will form a part of our group of students who learn our beautiful language and, at the same time, learn about our culture, customs, and traditions.
www.oaxacainternational.com/en/
Oaxaca Spanish Language Schools
We are a small school willing to help all of you to learn more Spanish. The classes never have more than five students since we have twelve teachers ready to work with you.
www.oaxacanews.com/amigosdelsol.htm
Español Interactivo Language School
Our Spanish programs are carefully structured so that classes include the functions of grammar, reading, oral comprehension, written and oral expression (communication) exercises, as well as cultural activities.