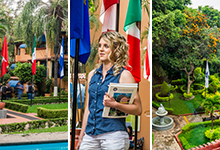 IDEAL Escuela de Español
Our Spanish courses and programs are specially designed to develop your ability to communicate in Spanish in the quickest way possible, while making your experience in Mexico educational, fun and unforgettable.
www.ideal-school.com/index.php?idioma=2
Spanish Dialogues
Learn Spanish in your teacher's home, personalized attention, at a very competitive price.
ASLI Spanish Language Institute
ASLI Spanish School in Cuernavaca offers you a combination of efficient Spanish language learning in order to give you a truly fulfilling. All classes emphasize a functional use of the language.
ACALLI Intensive Spanish School
Their programs are for who are interested in the aspect of intercommunication and of course in the language and the culture, offers weekly programs and the opportunity to live with a local Mexican homestay.
Club de Español y Lenguas Internacionales
Spanish language programs for teenagers and college students. Small classes as well as homestays in a community-minded.
Chac-mool
Spanish immersion classes in Mexico. Adult, kids and family Spanish programs.
AVENIDAS Avenues to Spanish
Spanish immersion school classes via internet, live voice-based classes from Mexico since 2000.
UNINTER
The Center for Linguistic & Multicultural Studies, is recognized and approved by the SSEP (Secretary of Public Education), the highest educational authority at the state level with national validation.
www.spanishschool.uninter.edu.mx
Experiencia Centro Cultural
Spanish language school in Mexico, Español Universal, offers tailored Spanish language instruction. Study Spanish abroad in Cuernavaca, Mexico.
Cuauhnahuac Spanish Language Institute
Cuauhnahuac Spanish language study abroad programs, Five students per Spanish grammar class, flexible hours, own teachingSpanish language method.
Encuentros Spanish Immersion
The Mission at Encuentros is to offer foreigners a quality Spanish language program oriented to the specific needs of the student.